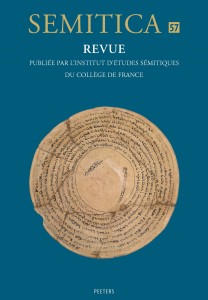 Semitica 57, édité par Michael Langlois sous la direction de Thomas Römer. Leuven, Peeters, 2015. 293 p.
Jean-Marie Durand. L'élixir de fidélité. p. 7-12.
Lionel Marti. Nouveaux textes sur la taxe-sugâgûtum à Mari. p. 13-32.
Grégory Chambon, avec une note de Michaël Guichard. « Il faut que vos gardes soient fortes ! » Une lettre de Sūmu-El sur la guerre entre Isin et
Larsa. p. 33-42.
Yoram Cohen. The Wages of a Prostitute: Two Instructions from the Wisdom Composition 'Hear the Advice' and an Excursus on Ezekiel 16,33. p. 43-55.
Shirly Ben-Dor Evian. "They were thr on land, others at sea." The Etymology of the Egyptian Term for "Sea-Peoples". p. 57-75.
Valérie Matoïan. Sur les supports en bronze de Ras Shamra – Ugarit. p. 77-112.
Shira Faigenbaum-Golovin, Christopher A. Rollston, Eli Piasetzky, Barak Sober, Israel Finkelstein. The Ophel (Jerusalem) Ostracon in Light of New Multispectral Images. p. 113-137.
Moise Isaac & André Lemaire. Two Unpublished Hebrew Ostraca from Tel Gezer. p. 139-145.
Matthieu Richelle. Quelques nouvelles lectures sur l'ostracon de Khirbet Qeiyafa. p. 147-162.
André Lemaire. Notes d'épigraphie sémitique. p. 163-176.
Nadav Naʾaman. Amasa the Asrielite (2 Samuel 17,25). p. 177-183
Thomas Römer. The Hebrew Bible and Greek Philosophy and Mythology – Some Case Studies. p. 185-203.
Årstein Justnes. The Hand of the Corrector in 1QIsaa XXXIII 7 (Isa 40,7-8): Some Observations. p. 205-210.
Bahaa Amer Al-Jubouri. A New Aramaic Incantation Bowl. p. 211-216.
Gaby Abousamra. Palmyrene Inscriptions on Seven Reliefs. p. 217-252.
Alessia Prioletta & Mounir Arbach. Inscriptions qatabānites inédites d'une collection privée yéménite. p. 243-271.
Yehudit Dror. The Adversative Function of the Particle ṯumma in Light of the Qurʾānic Translations. p. 273-293.